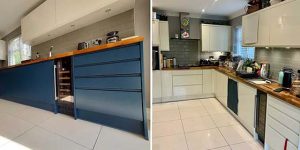 Kitchen Resprays in Hampshire are common but what makes your Kitchen Respray durable and long lasting is the company you choose.
There are many kitchen resprayers out there not using the right finishes or not preparing the kitchens for respraying in the right way.
Poor preparation seriously affects the lifetime of your resprayed kitchen.
I want a no fuss professional team. I would like a FREE NO OBLIGATION QUOTATION. I want a specialist to come to my home and remove the kitchen cabinets to be resprayed away from my home. I want the best quality paint/finishes to give the strongest most durable finish. I want new handles to match my newly resprayed kitchen. I want this done in the shortest time possible